Craftevan x 3RD ROCK Colab
The perfect vibe for a high summer.  

From a chance meeting to a collaboration between two creatives, the Craftevan x 3RD ROCK colab goes a little further than usual. Rediscover your flower power and love of summer adventures with these beautiful hand drawn designs.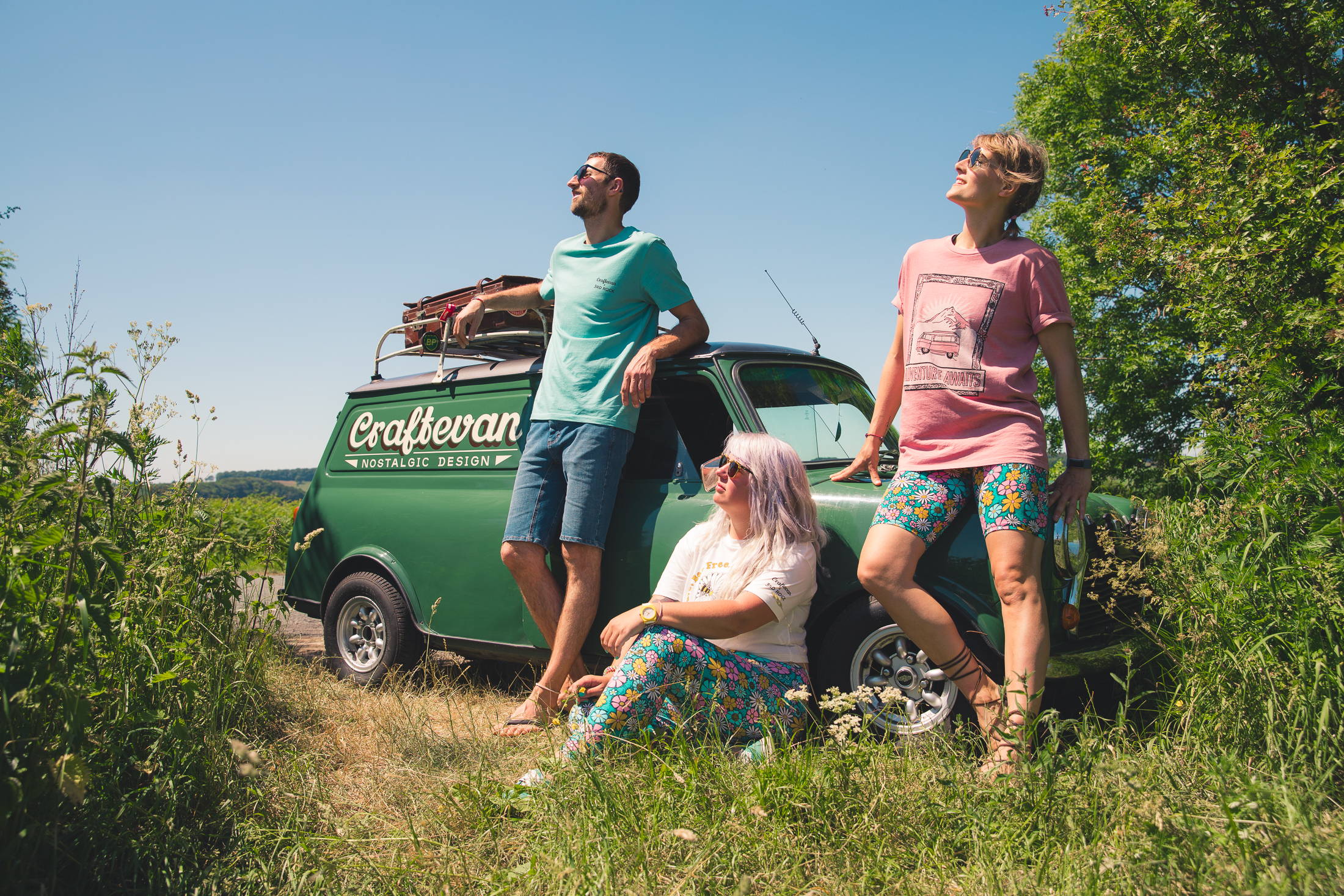 Speaking to the our high summer adventurous sides, our van life inspired collection has everything you need to turn up the heat
We aren't strangers to a collaboration or working with an outside source for a good graphic but the Craftevan x 3RD ROCK colab speaks to the free spirited adventures of high summer through nostalgic and retro designs on buttery soft organic cotton.
Born from brainstorming sessions in greenhouses and creative meetups under the shelter of a vintage VW campervan awning in the beautiful Derbyshire woodlands and green spaces of the Peak District, this collection has been truly shaped by nature.  
Featuring printed full length womens organic Thor legging and long-line legging-shorts, the perfect companions for any eco inspired sunny adventures combine perfectly with a range of unisex van life inspired organic cotton tees and ladies vest to accompany you on your adventurous lifestyle.
We caught up with 3RD ROCK founder Jess and Craftevan creator Julie to hear a little more about the creative process of our latest collaboration in this 'meet the makers' behind the scenes interview,
---
Shop the Craftevan x 3RD ROCK Collection
---
Jessica is the Founder and Head Designer of 3RD ROCK Clothing, she is focused on creating sustainable and useful fashion through our family run brand.
What do you look for in a collaboration with 3RD ROCK?
I look for an interesting style, great taste and fresh ideas.
What is your thought process when approaching another brand to collaborate with?
It basically goes like this: oooh they are so cool, I want to work with them. How shall I make them collaborate with 3RD ROCK? True story!
Tell us a little more about how this collaboration came about and what drew you to Craftevan's designs?
Julie and I met outside our daughters playgroup and got chatting about caravans and camping holidays. I soon learned about Craftevan and just loved the illustrations of classic cars and 'vintage' caravans incorporated with florals and a modern yet retro vibe.
I saw that Julie is an incredibly talented artist and really wanted to work with her. That together with being starved of other human contact this last (pandemic) year helped us team together and bring the collaboration forward.
We were able to have print and design meetings in Julie's extensive greenhouse during torrential rain downpours and up in the woods while waiting for our little girls to finish forest school, be it on a sunny day or in a hail storm sheltering under Julie's VW campervan boot/roof! It's been fun to take work outside and create with a friend.
If you had to pick a favourite piece from the collection, what would it be?
The Flower Power Thor Shorts are my favorite!
The Print is incredibly beautiful, the length is just right and perfect for under a climbing harness or just mucking about in all day long without having to pull them down, the high waistline means I feel comfortable wearing cropped tees and vests and they are just super comfortable.
---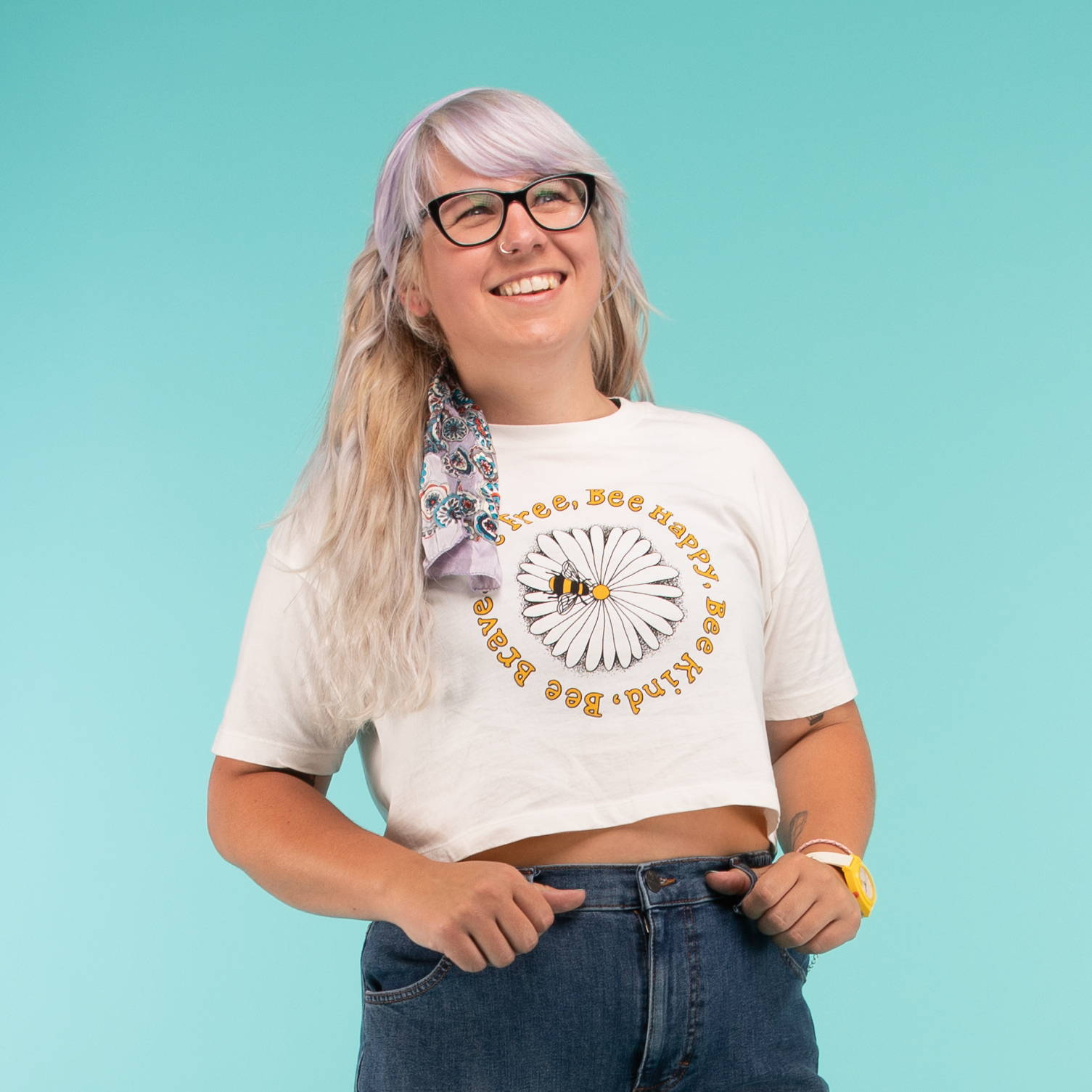 Julie is the creator of Craftevan, a mobile craft shop based in Derbyshire. Inspired by nostalgic childhood holidays on the coast and in the countryside and forged from a passion for vintage vehicles, Julie creates hand made designs that are full of dreams, ambition and adventure!
How did you feel when you saw your designs on the final garments?
There is always a 'first look' buzz that I love, but to see a number of totally new products all together, that represent a lot of hours of work and adjustment was just incredible. The flower print is bold and certainly has the WOW factor. I was blown away. The cut of the clothes are different to my usual styles and so the combination of elements has made for a fantastic collection that I am incredibly proud of.
How did you find collaborating with another brand?
I have been fond of the values and quality of 3RD ROCK for some time; the ethical stance, incredible functionality of the garments, longevity of the items and outlook of the business.
To be given the opportunity to collaborate with such a brand was exciting and inspired me to move away from my norm and into a new area creatively. As a designer/maker I always strive for perfection in my work, and having Jess' input helped me to relax a little and enjoy the process.
What inspired the designs?
I am an avid classic car enthusiast, lover of gardening and the outdoors. I enjoy bouldering and canoeing whilst my heart lies in the 60's. I brought all this together, with some directional nudges from Jess to create a number of designs that reflect our collective values.
If you had to pick a favourite piece from the collection, what would it be?
I love the Venny camper tee and the Bee Happy tee. I'm all about gardening and classic cars so the prints fit with my lifestyle. The quality of the garments is incredible, soft against the skin, flattering but with freedom to move. The crop keeps you cool in summer, but equally can be styled to be a semi formal garment too.
How did you find the creative process designing for a brand with a different target market to your own?
At first it was a challenge, I am hyper critical of my own work and I didn't want to let anyone down. As soon as I chatted to Jess, seen some other 3RD ROCK garments and gotten a clear picture of the brand I became inspired.
I have a lot of friends who climb and live the 'van life' so a good look at their Instagram pages and a camping trip in the Lakes with Jess and Guy also helped. I chose the time between my daughter's bedtime and me heading to bed to draw. Drinking Biscuit brew tea in front of the wood burner is quite at odds with the summer vibes but it seems to have worked. I just hope its good enough! Designing for a friend is equal measures tough and super fun!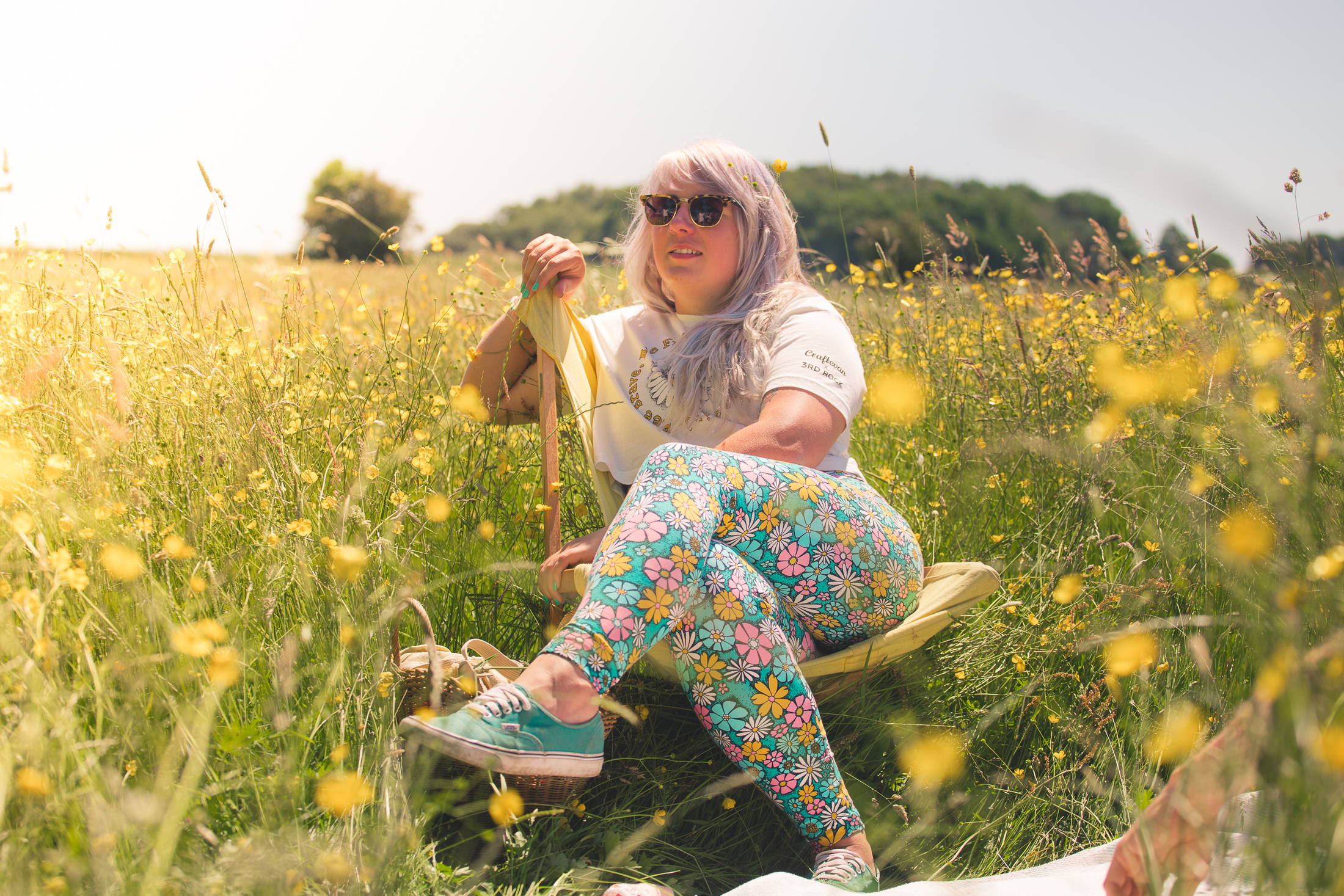 Julie of Craftevan draws inspiration from her passion for vintage vehicles and the beauty of our natural world.
Celebrate the summer with the Craftevan x 3RD ROCK Collection, exclusively available on our website now. Designed in Derbyshire, created with love.
Unleash your inner Flower Power.
---
Get inspired & find your Craftevan x 3RD ROCK Colab look
---
Our garments are made for movement, but that doesn't compromise their sustainability
---
---
Thanks for reading. We're 3RD ROCK. We design and manufacture sustainable climbing clothes & activewear that's made to move and made to last. Using recycled ocean plastic, organic cotton and upcycled materials, we're making items that help protect the very environments we depends on for our adventures.
We've been awarded "Most Ethical Climbing Brand" by the Ethical Consumer trade body out-performing Black Diamond, Prana and even Patagonia!
It's our way of saying "no" to fast fashion, "yes" to protecting the climate and "absolutely" to a life spent outdoors.
---