Have you ever wondered how the prices of your favourite tops and trousers are decided? Are we paying too little for clothes by shopping at brands like Primark or H&M? Or paying too much for clothes that sell you a lifestyle over quality?

This side of the fashion industry is mainly kept in the dark, so we decided to shine a light on it and share our pricing with you, so you can understand exactly what your money is going towards.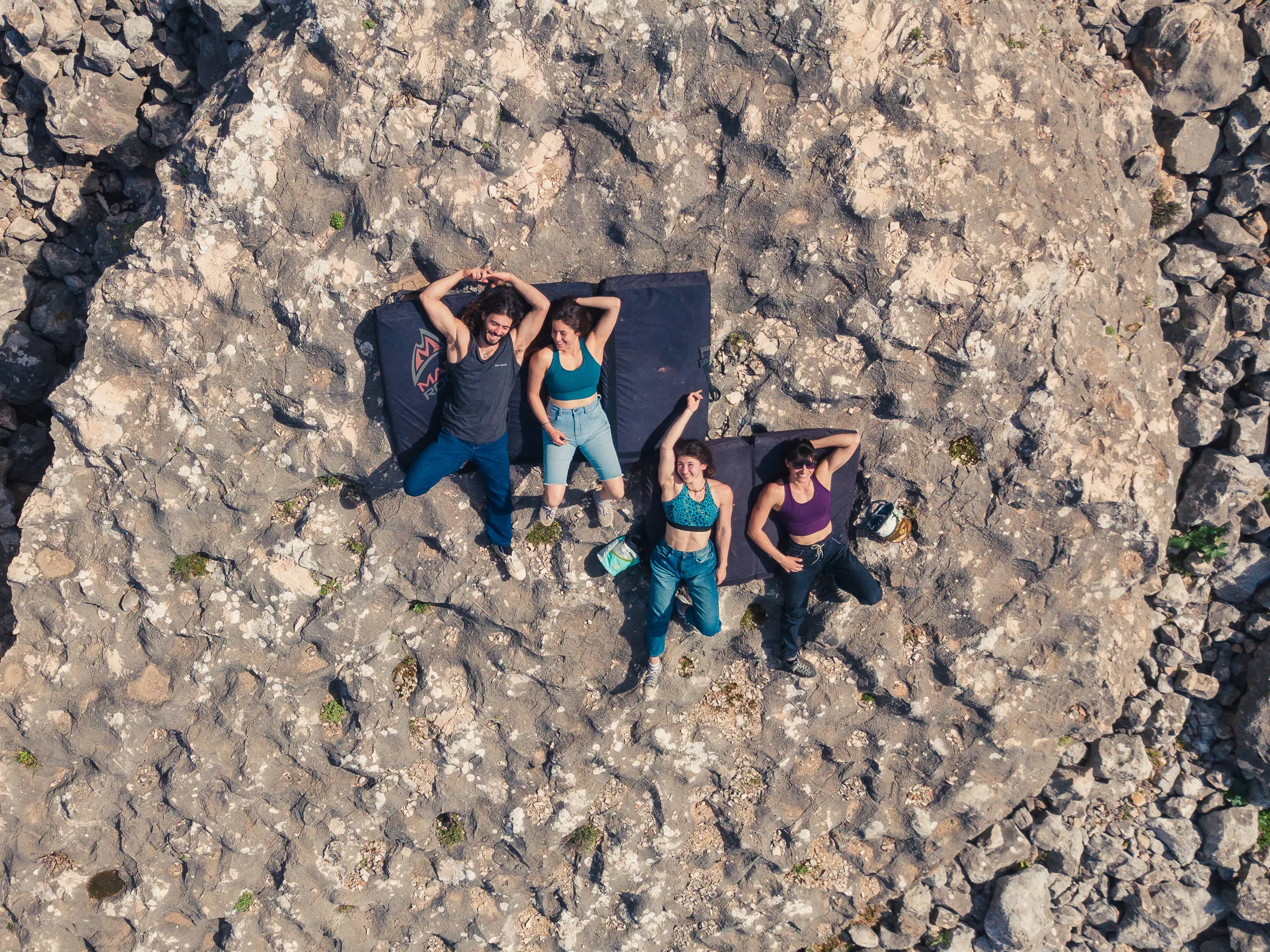 Garment Prices Over the Years
Some of you may remember a time when it was at least the price of 20 coffees to buy a top, but these days, for nearly the same price as a coffee, you can get the latest styles which are mass produced in a season-less market. It's hard to believe, but only a few decades ago, people would save up for months to buy just one item that would cost £100-£200 ($150-$250). The "same" item now costs £10-£20 ($15-$25) from fast-fashion retailers.
'While the price of consumer goods have
steadily increased over the past 40 years,
due to inflation and other factors,
somehow the average price of clothing
has actually gone down.'
-The Cost of Garments
---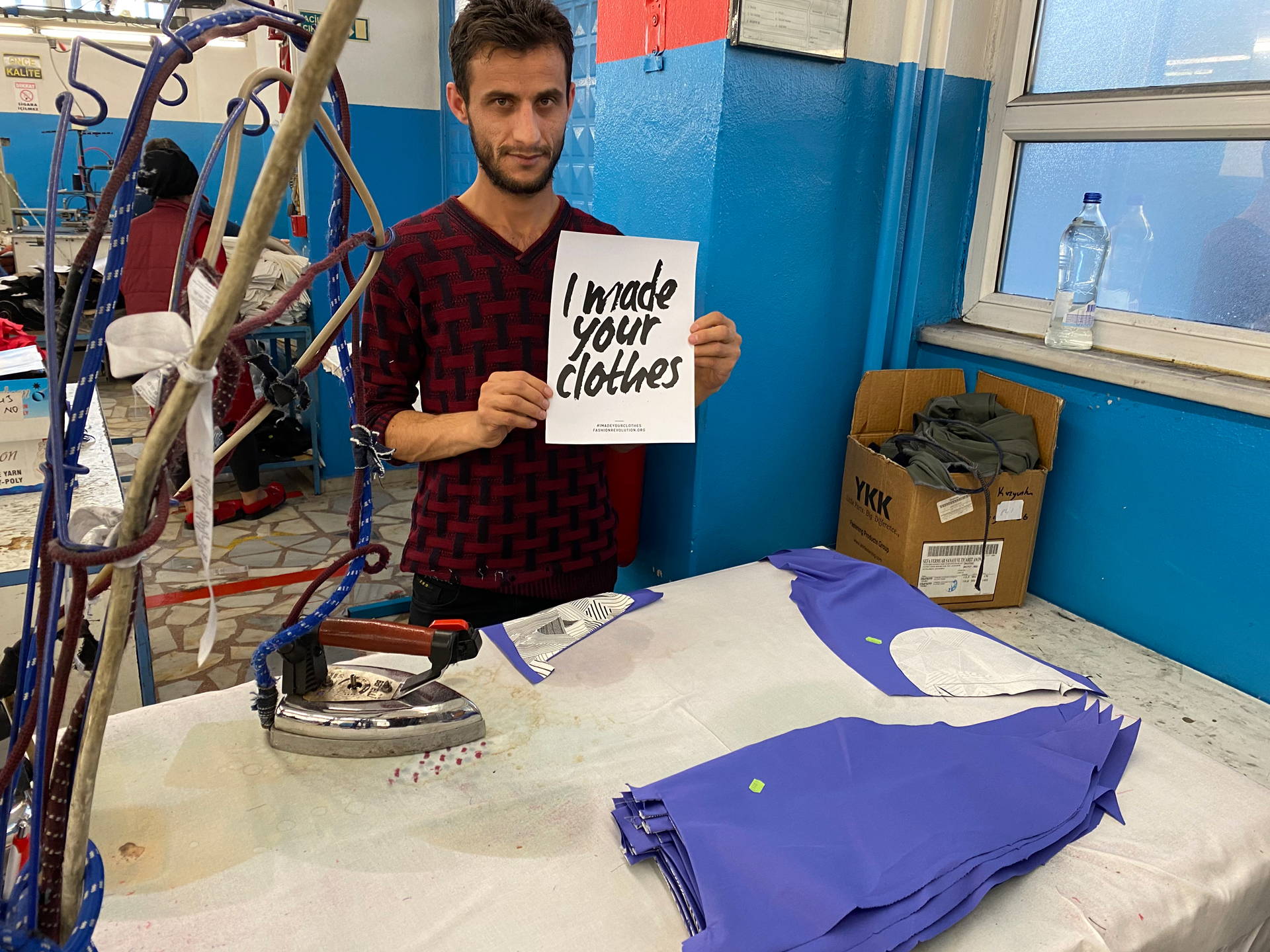 Image: Zafer Daguch is an iron and pressing assistant at the factory in Turkey that produced our SS20 trousers
Many apparel companies moved their production to the cheapest location, beginning the "race to the bottom," caring little for the well-being of factory workers and compromising the quality of the garments.
Here at 3RD ROCK we only work with factories that comply with the ETI (Ethical Trading Initiative) base code of labour conduct, or are SEDEX or FairWear Foundation members. More consumers are recognising that exploiting garment workers and polluting the earth is not something they want to participate in and in turn, sustainable clothing brands have been popping up, and 3RD ROCK is one of those brands. Started by Jessica Mor in 2010 in order to combat the negative sides of the fashion industry, Jess made it her personal mission  to make a difference by starting an ethical clothing brand that prioritises protecting the environment and factory workers while creating quality, long lasting garments.
But the question remains: how much should a garment actually cost?

We're here to give you some insight into that answer.
---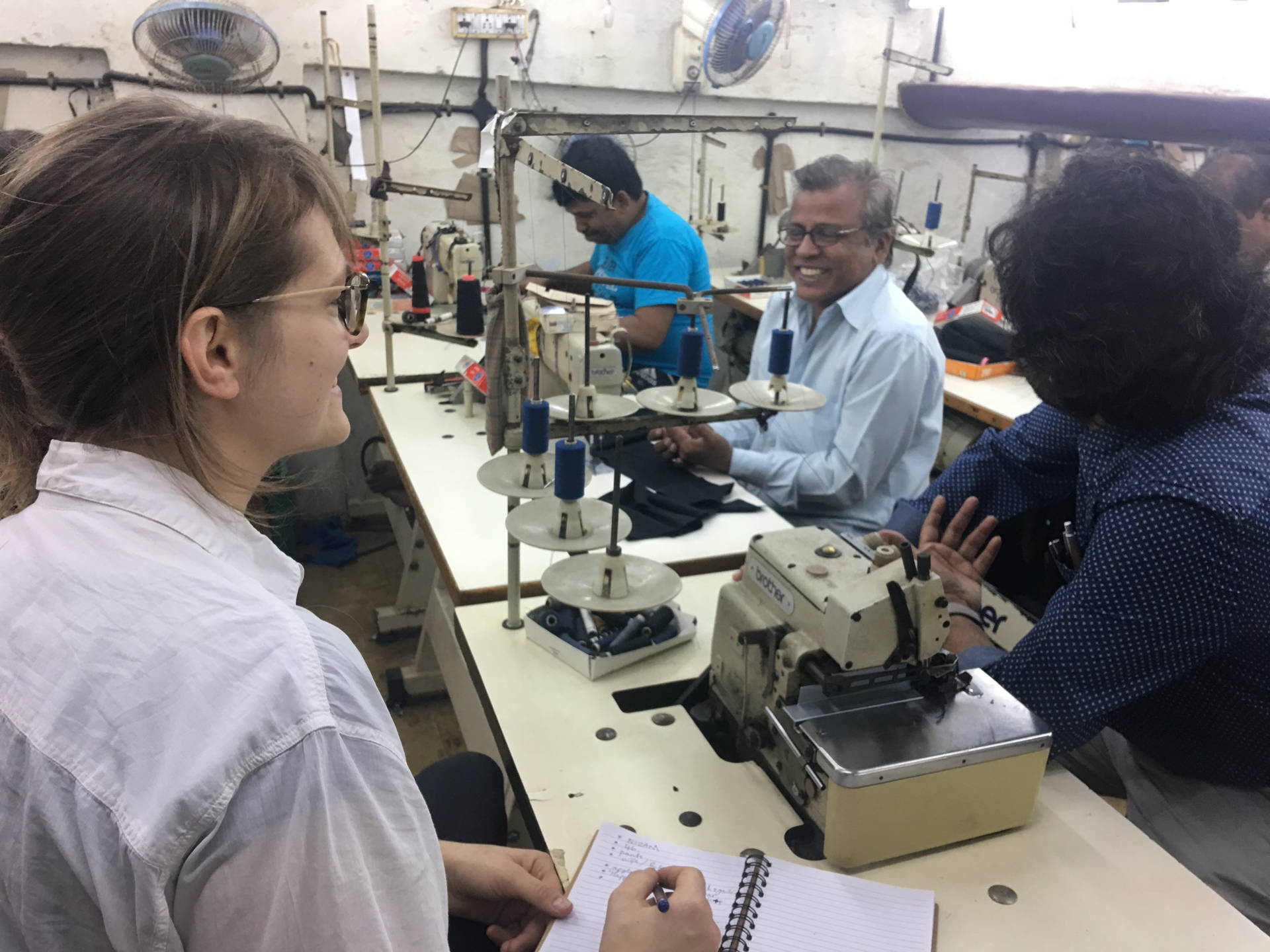 Image: Founder & Head Designer Jessica chats with employees at a factory in India who produced some of our SS19 lines.
---
The price of a garment reflects the cost of manufacturing the garment, the cost to run the brand/company that sells the garment and the brand's business model. Finally, we need to add the cost of getting that garment to you.
The Cost of Making a Garment
This usually includes the price of the fabric, the trims (zips, belt, buttons, etc) printing and the labour to cut and sew the garment.
The actual cost of those elements varies dramatically depending on the quantity ordered, the materials used and the location and quality of the factory:
Organic cotton is roughly 30% more expensive than conventional cotton;

Bulk-buying will result in a lower price (for example, if 3RD ROCK were to buy material X and Nike were to buy the same material, you can imagine Nike's price will be significantly cheaper).

Printing with eco-friendly, water-based inks is more expensive than water-polluting inks.

Hiring and paying decent living wages in Portugal and Turkey is more expensive than paying the same wage (even if decent) in Bangladesh or China. Furthermore, factories with high ethical and sustainable standards will often have high operating costs and certification to adhere to.
The Cost of Running the Brand/Company
This too changes dramatically between different brands according to their size and their business model (are they a wholesale brand i.e selling to other shops) or are they selling direct to you, the customer?
For us, we need to take into account the time it took us to design and develop the garment, the marketing collateral around it (photoshoot, media buying, advertising etc) and last but not least, everybody's best friend, the taxman...
The Cost of Getting the Garment to You
We're not just talking about shipping. Consider the packaging, the picking and packing of the garment, the logistics of fulfilment, the space required for storage, insurance etc. This is an often overlooked area of cost, but can be a very large chunk of expense.
So, hopefully, now you have an idea of what the various cost elements are, but let's dig even deeper and see an example below: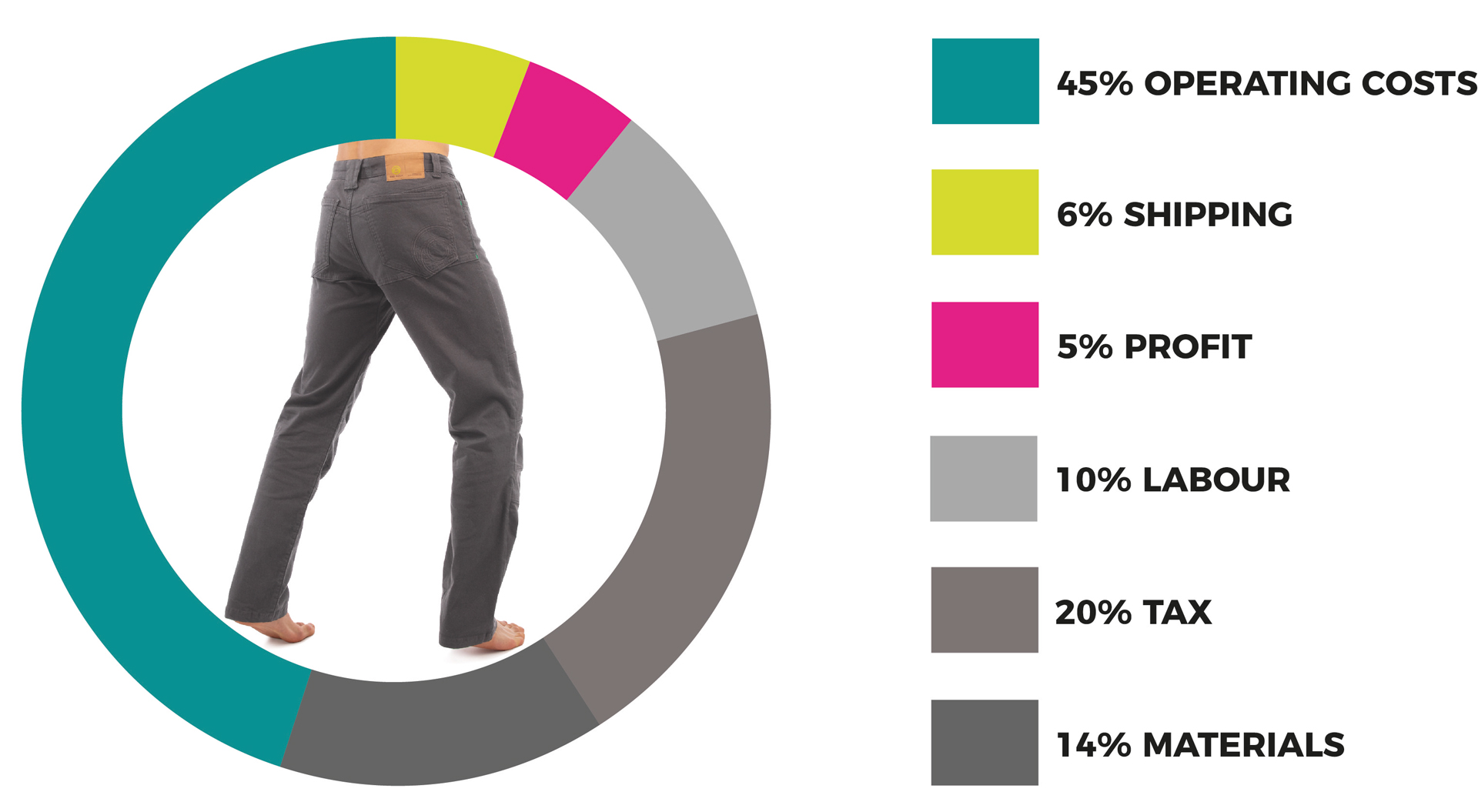 Price Breakdown for the Mercury Jeans 
The retail price of a Mercury jean is £86. 20% of the sale is tax, that's £17.20.
It cost us 10% (£8.60) in labour and 14% in materials (£12). At this point, we're at around £48 left. We still need to get this item to you, with all the peripheral costs described above, that's another 6% (£5). Finally, 3RD ROCK's Operating costs (logistics, marketing, development, storage rent bills etc): 45% (£38.70).
Which leaves us with a modest 5% profit which we reinvest in the business. A whopping £4.30.
Here at 3RD ROCK Our goal is to redefine active and outdoor style through movement orientated activewear, using the highest quality sustainable fabrics, produced on a small scale to minimise over production. We want to make sure we provide you with that extra value that comes hand in hand with our operating style and ethos.
We've made shorts from ocean plastics, leggings from carpets, chalk bags from fabric off cuts and of course, we are big fans of organic cotton! (having used it since our very first day).
Part of our commitment to make sure our garments are as transitional as possible is to design styles that can be worn multiple ways, for example our Equinox Bra, that is reversible and suitable as a sports bra and bikini top. We also design climbing clothes that are multi-functional, so you get more wear out of your garment, like Mercury Jeans , which you've seen outlined above.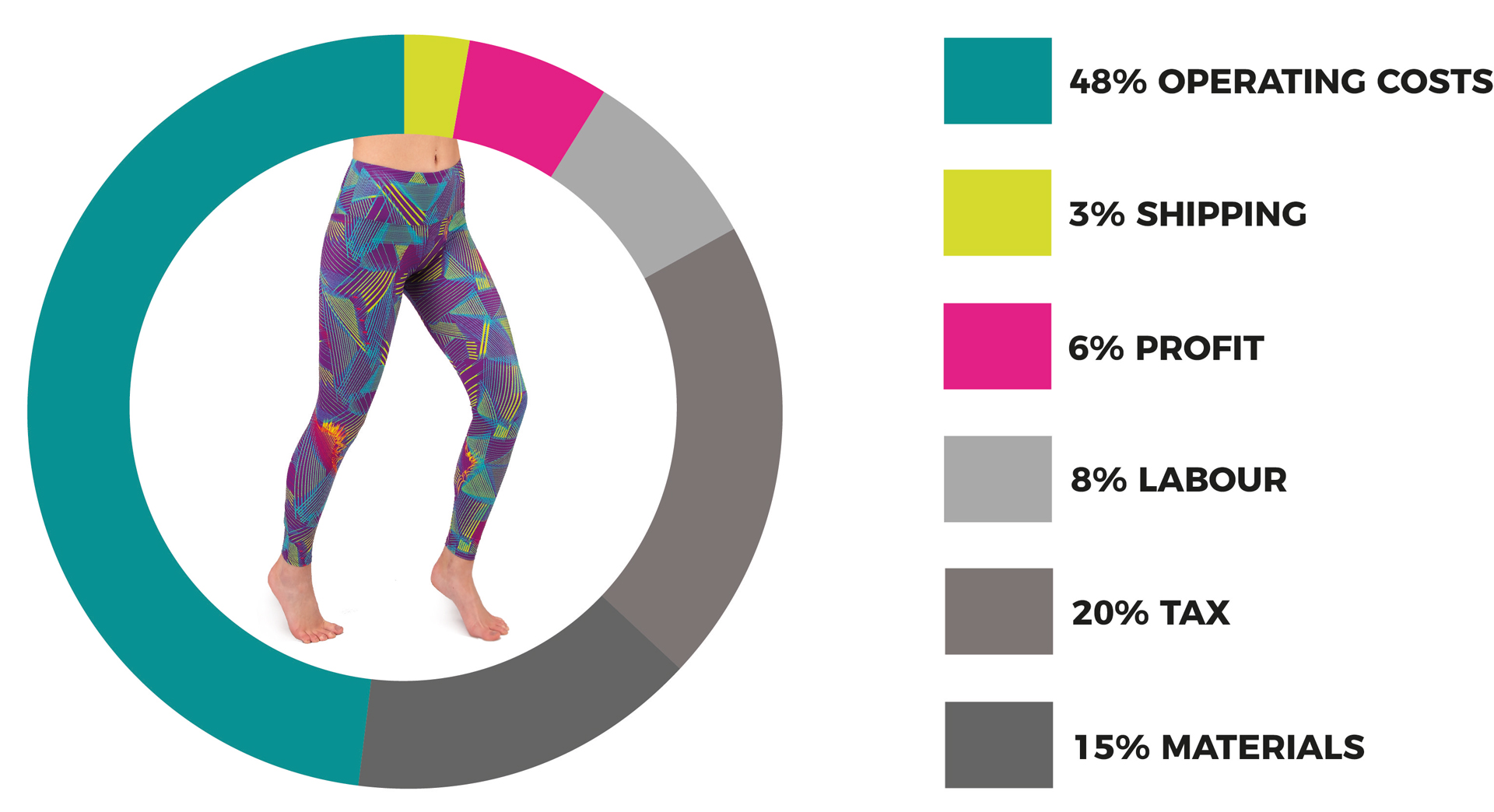 Sustainability will always be at the heart of what we do, it guides us through our journey of growth, we've even been named the Most Ethical Climbing Brand by The Ethical Consumer.

We love how we've seen the fashion and outdoor industry improve its ethical and sustainable standards and we are just as excited to see these shifts with your help.

The more you support sustainable brands, the more we can see a world shifting away from fast fashion, packed landfills and towards a world full of empowered people who protect the environment and love and wear their favourite climbing pants to death. We have to start somewhere and we can all make a difference together.

At the end of the day, you are the customer and you will decide if it's valuable to YOU.
---
Shop our most popular items
---
---
Thanks for reading. We're 3RD ROCK. We design and manufacture sustainable clothes & activewear that's made to move and made to last. Using recycled ocean plastic, organic cotton and upcycled materials, we're making items that help protect the very environments we depend on for our adventures.
We've been awarded "Most Ethical Climbing Brand" by the Ethical Consumer trade body out-performing Black Diamond, Prana and even Patagonia!
It's our way of saying "no" to fast fashion, "yes" to protecting the climate and "absolutely" to a life spent outdoors.
---
2 comments
---
---