In the 'new normal' world we now find ourselves in, 'Staycations' are the new order of the day and our Ambassadors have assembled their top tips for climbing closer to home.
Northumberland Bouldering
Northumberland is an area in the UK unlike any other, with its best comparison being the climbing style and holds of the famous forest of Fontainebleau.
Consisting mainly of sandstone it offers a huge variety of climbs and styles including traditional, sport and boulder. Each crag is unique and each climb features interesting and exciting moves. The holds vary from large slopey jugs to sharp incut crimps and all the way to flat non-existent slopers which with the sandpaper like texture, provide just enough grip to create some great rock hugging moves.
The best conditions for most crags are often in early spring, autumn or even drier winter days, but certain crags can be climbed year round if you're really psyched. With more crags being open on hillsides its best to avoid venturing out on a hot summers day in peak heat, however wooded crags such as Kyloe in and out can usually work if you don't mind the midges.
As the rock is sandstone it absolutely cannot be climbed when wet, many of the classics have already been changed and degraded to such an extent that the grades just keep getting easier. Please respect the rock!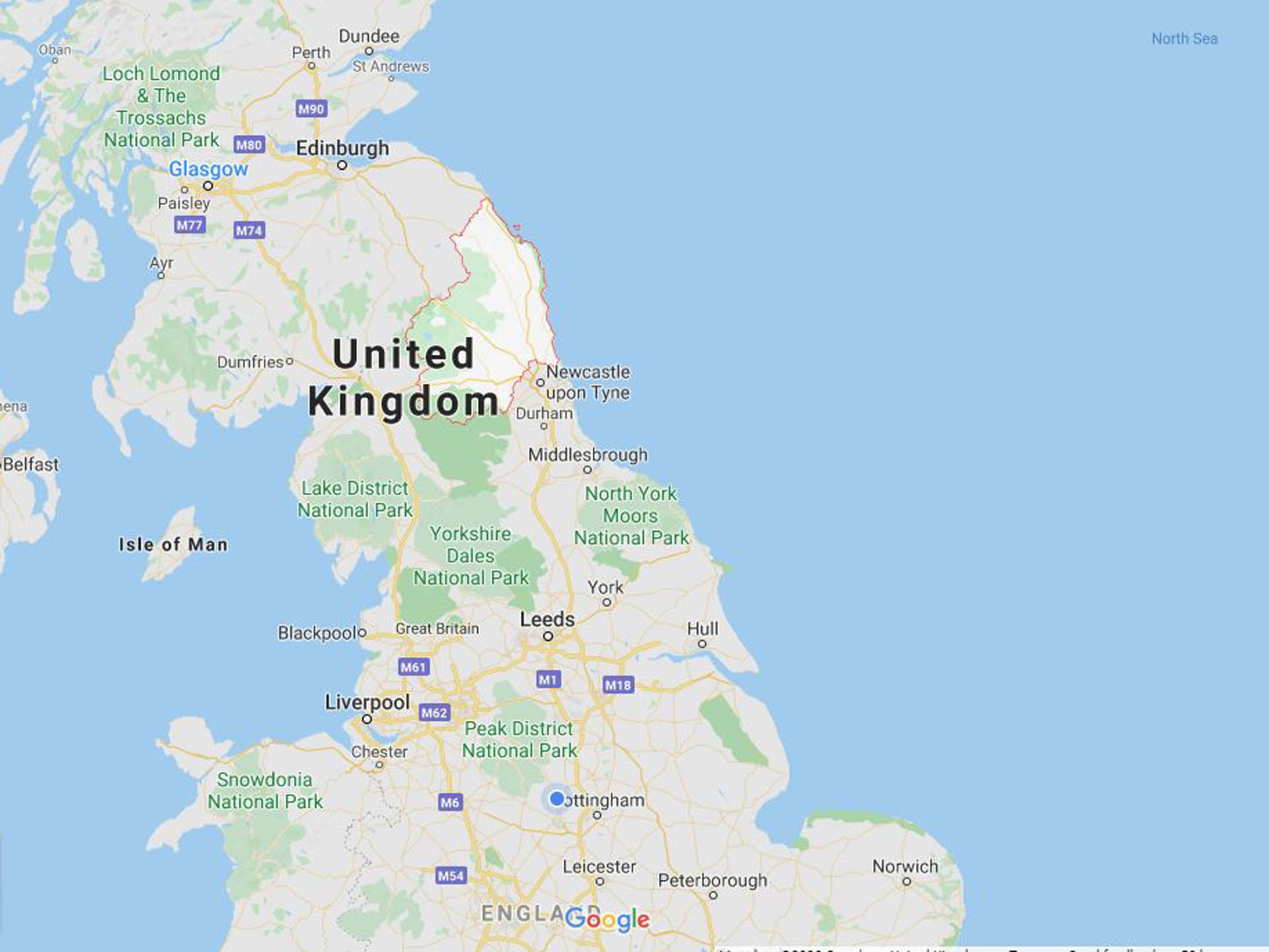 Some of my favourite crags to visit in the Northumberland are of course the classics. They each have their own styles and ideal conditions so the weather doesn't stop you getting to a good spot.
This gem is one of the better crags for those hot days, and occasionally the coldest. It's located in the woods surrounded by forestry (so do be careful and check access when visiting). It is a slight overhang and has a variety of incredible boulders varying from easy to hard, from low ball to high ball, it has it all. Most of the climbs here are crimpy or involve some grotty pockets but one or two have some really futuristic moves, as well as the occasional dyno!
The classics of the crag are:
Bad Finger 5+

Not Bad 6A+
Jocks and Geordies Stand and Sit 6C/7A
Monty Python's Direct Stand and Sit 6C/7A+
Hitchhikers Guide to the Galaxy 7A+
The Yorkshireman 7B
The Nadser 7B+
Monk Life 8B+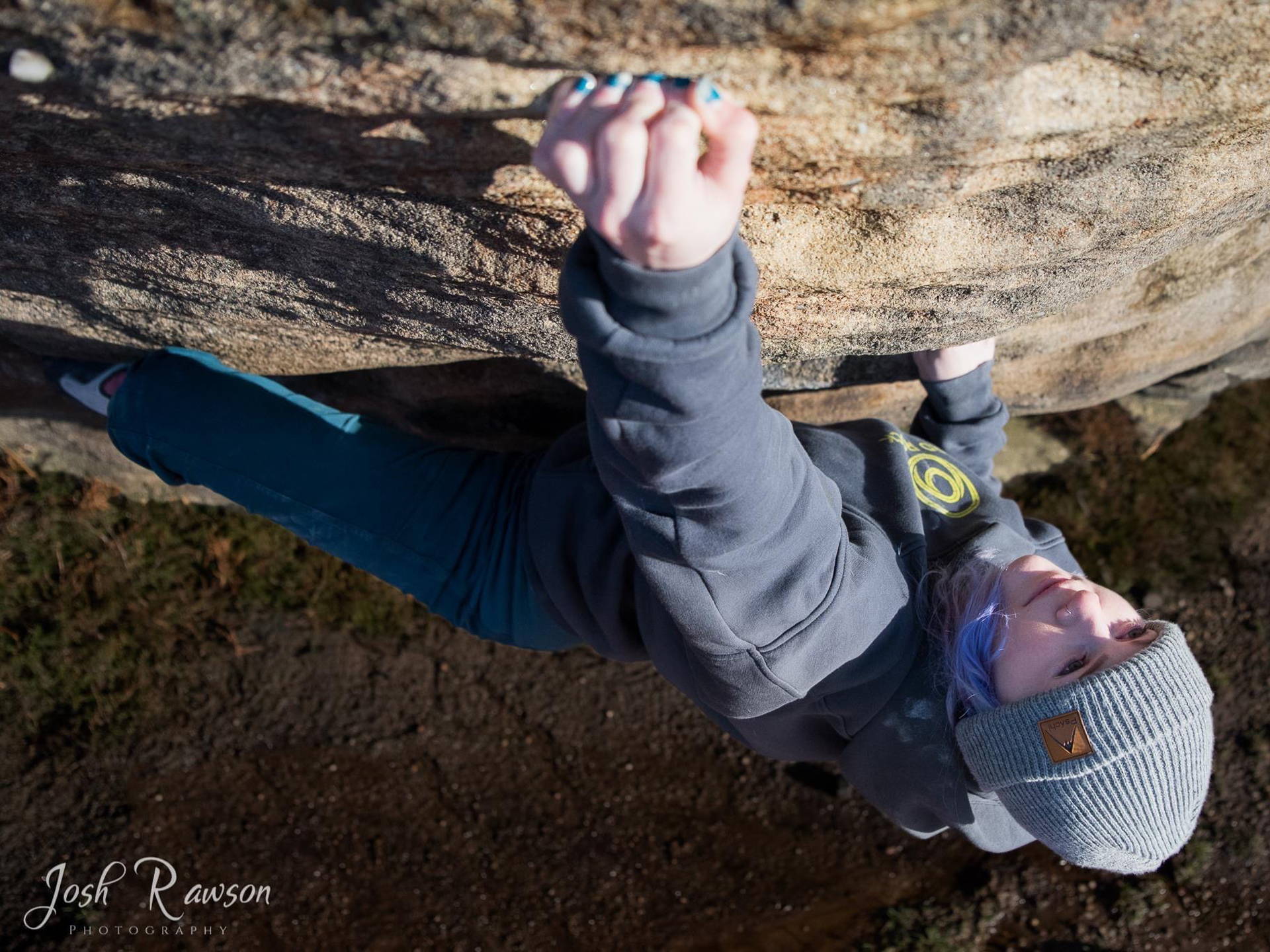 A hillside crag stretching far enough to include a multitude of both Trad and boulders with a lovely walk along the top if it gets too hot. The parking is off road with a 10 minute walk along the hillside to reach the main bulk of the boulders. This crag features a few roofs with horizontal climbs that test even the best climbers, as well some crimpy vert climbs, a few large compressions and even a traverse to a mantel. Its almost impossible to climb here on a hot day as its directly in the sun for most of the day, but if you are super keen there are some nice juggy classics to go at.
The classics of the crag are:
Scooped Wall 6B

Cave LH Problem 6B+
Captain Haddock 6C
Transformer Direct 7A+
Sprung 7C
Hard Knocks 8A
Honeycomb Wall 8A+
Working Class 8B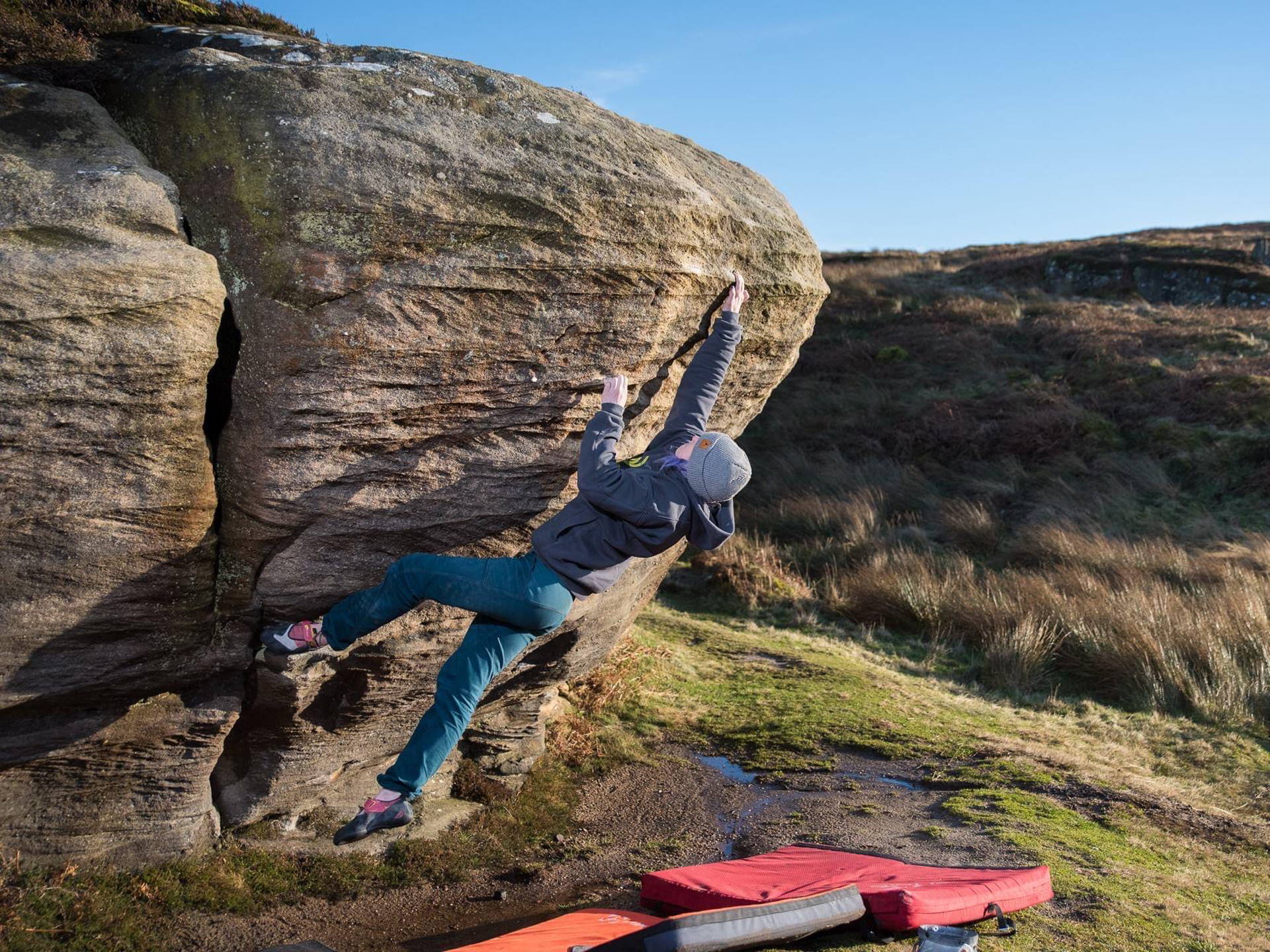 If you dont fancy the crimps of Bowden Doors then a short drive to parking 5 minutes away takes you to Back Bowden where the style flips almost completely. A much smaller crag but with its own powerful style holds some great boulders and a famous highball. This crag consists more of huge overhangs and more powerful moves but of course still maintains a couple crimpy climbs. This is often a good place to shelter if it's too windy at Bowden as the wooded end of the crag gets a bit of shelter.
The classics of this crag are:
The Vole Right Hand 6A

The Young Warlords 6C
Little Pixies 7A
Low and Hard 7B
Hard Reign 7B
Dead Severus 7C
Bechstein 6C
This hilltop crag is perfect for some post rain sending. It often gets a lot of wind and sun so isn't great in heat but is quick drying for a lot of the climbs. It also spreads into more wooded areas to protect from stronger winds but this can get condensed if it's too hot. These climbs vary to most crags with most holds being sloper and climbs featuring a lot of compression or committing footholds. It has at least one of every angle, from intense overhangs, technical verts, all the way to sketchy highball slabs. The landings here are not the best so bring a few pads and your best spotters if you're not very experienced.
The Classics of the crag are:
Matterhorn Arete 6A

Lexi Arete 6B+
Harpischord 6C+
Rheumatology 7A
Titanic Arete 7A
A Northern Soul 7A+
PreparationH/SS 7C+/8A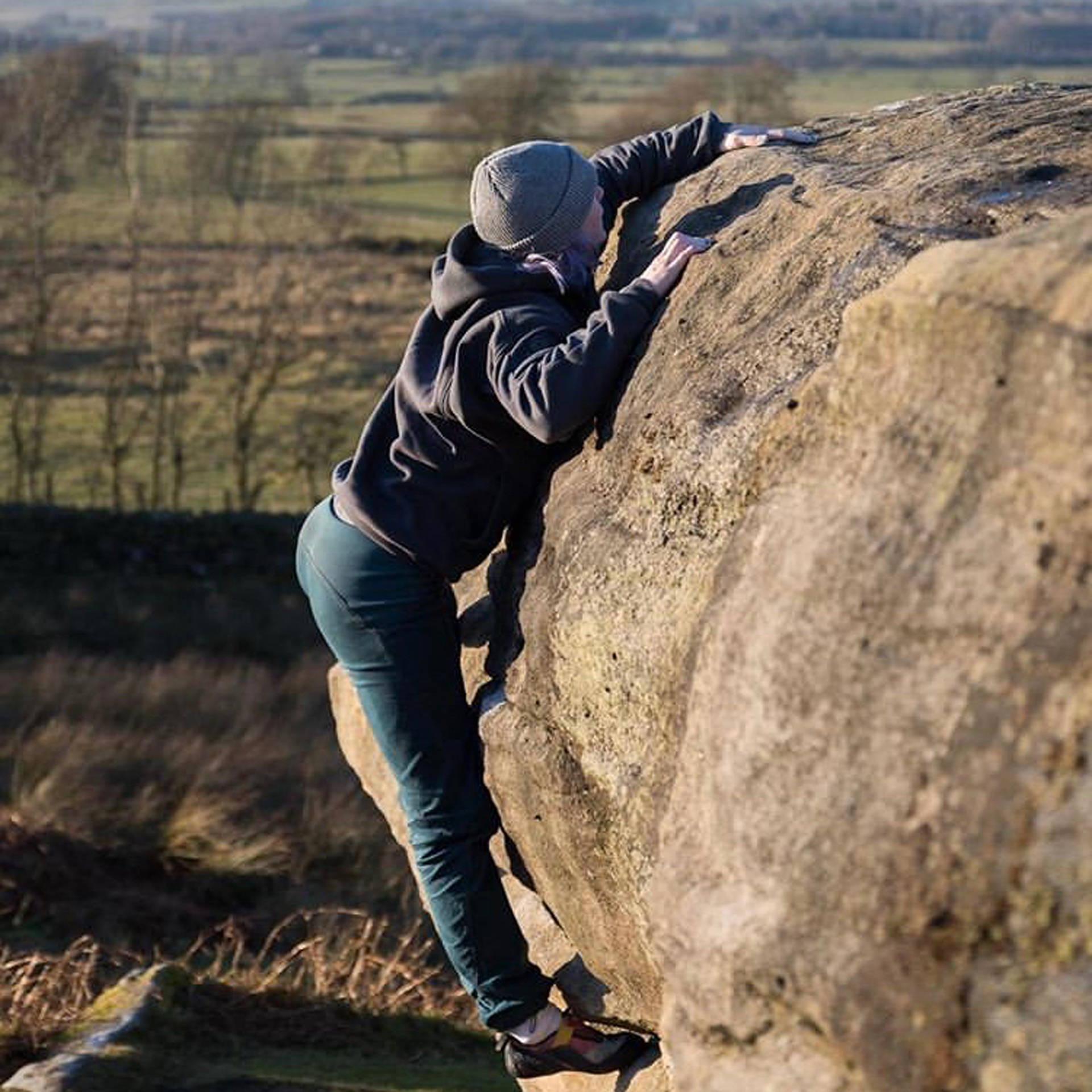 Sloper Masterclass 5+, Shaftoe
A true test piece for slopers. A traverse along finished by rocking around and a small mantle over a lip. Slightly pumpy, slightly harder than 5+ if like me, you don't like slopers.Captain Haddock 6C, Bowden Doors
Captain Haddock 6C, Bowden Doors
A complete contrast now to small crimps and no feet. Small precise movements lead you to pressing on a small hold with only your thumb, standing awkwardly on spread footholds and doing a commitment roll over while flipping the thumb to a virtually horizontal gaston. Some call it grotty, i call it technical.
Little Pixies 7A, Back Bowden Doors
Not one for those with a fear of heights. This classic consists of several small crimps, a technical start and committing to moves a little bigger than you would like, with a finish a little higher than 5m.
The Yorkshireman 7B, Kyloe-in-the-Woods
This potentially frustrating but incredibly required climb involves strength, footwork, explosive power and the perfect body positioning. Starting on two intense gastons in a large crack on a sloping foot, you pull to a tough stand up, roll into a side pull higher in the crack, get quite bunched and explode to a sharp, but bit in-cut, crimp and finally, finish on big but basic moves, this is not a give-in for the grade.
Queen Kong 8A, Queens Crag
A very famous compression known for being many peoples first of the grade. Classic wide slaps and technical heels with a highball finish make for the perfect combination of power and technique. Incredibly photogenic but requires a lot of pads and commitment
Guidebooks: Northumberland Bouldering Guide, Northern England, Northumberland Climbing Guide
Parking: pay attention to local access issues and park considerately. Refer to UKC or the BMC for more information
---
Looking for more Staycation inspiration? Check out a range of Staycation guides from our Ambassador team here.
---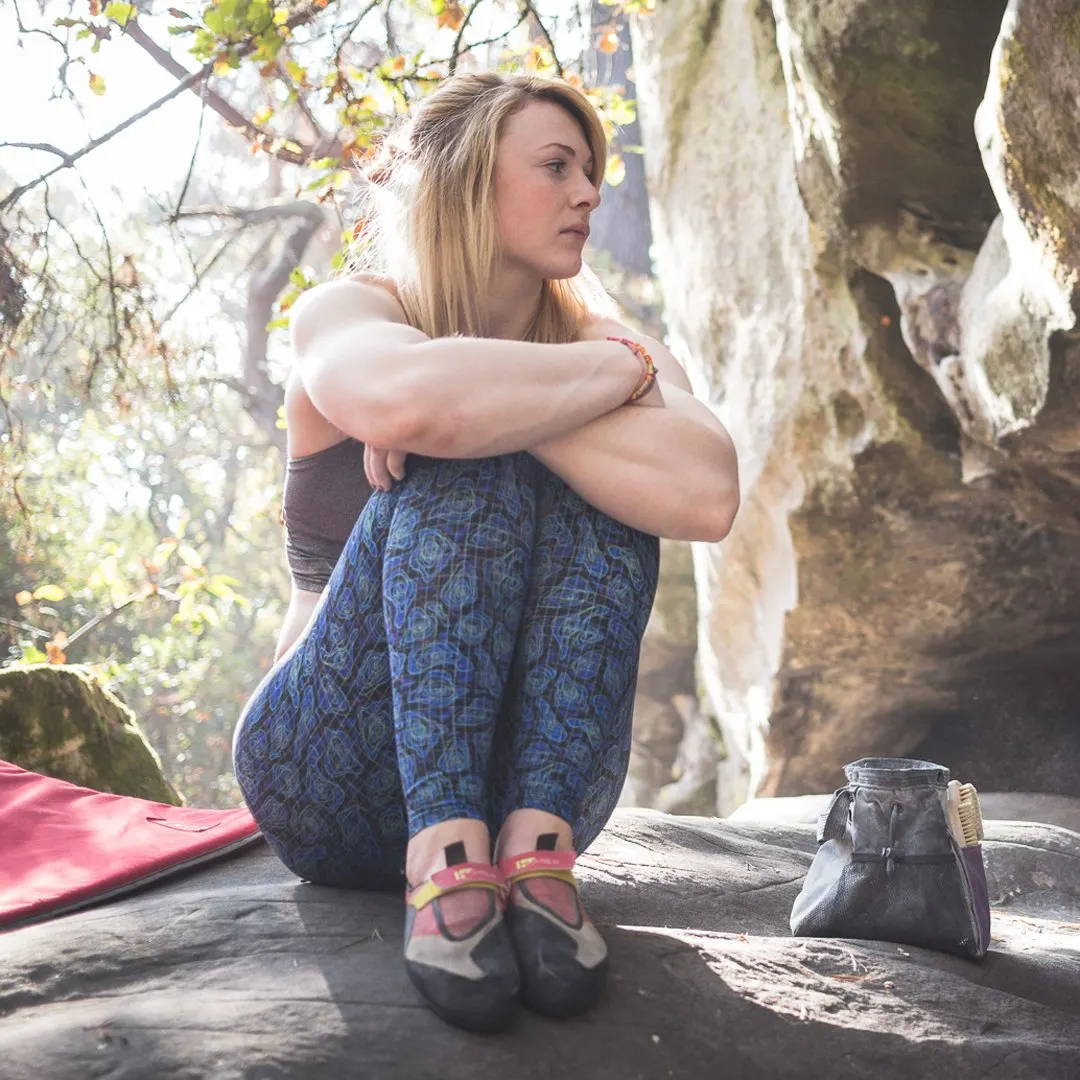 Rachel is a 3RD ROCK Ambassador and Sheffield resident originally from Edinburgh.
Rachel is a Team GB Coach and balances it with working at The Climbing Works and her own coaching enterprise.
Follow Rachel on Instagram
---