The Carabiner Tee is not just your average tee. Founder & designer Jess is a child of the 80's and, as a kid, fell in love with everything 80's style - the graphics, colors, prints.

Just like Jess herself, the 80s styles were bold, geometric, fun, androgynous, colourful and exciting. She wanted the Carabiner tees to be just that. Reminiscent of the era of the Fresh Prince of Bel-Air, Jess set to designing an interesting graphic print to pair with bold patterns and bright colours.
The 80s inspired Carabiner There Graphic in all it's retro glory
As climbing increased in popularity and sports climbing developed during climbing's glory days, men and women wore flashy lycra leggings and bandanas on the cliffs with high-top Boreal Firé boots.
Climbing in the 1980s was 'rife' with debates among sport and trad climbers over any and all aspects of the two disciplines. There was a veritable climbing culture clash. Traditional climbing was raised up for being more pure, more hard-core and mentally challenging, while sport climbing was celebrated for allowing climbers to push their physical limits.' -Gripped Magazine
The 80s was also the era of climbing fashion. The Carabiner tee print is a salute to those rad days. Loud colours, animal prints, and lycra – think the age of Wolfgang Gullich. One of the most iconic climbers of all time, Gullich also led the way in fashion. Wearing his incredible striped leggings for his famous ascents, the world's first the first 8b+, 'Punks in the Gym' in 1985, and the first 8c 'Wallstreet' in Frankenjura in 1987.
Donning short-shorts, leotards, and lycra, the female climbing scene in the 80s was equally powerful and fashionable. 'In 1983, legend-in-the-making Lynn Hill climbed with Mari Gingery on the first female-only ascent of The Shield on El Capitan. In 1986, Luisa Iovane from Italy became the first woman to climb 8a, 'Comeback' in Val San Nicolò, Italy. And in 1988 Isabelle Patissier became the first woman to climb 8b, 'Sortilège' in Cimaï, France.' - Gripped Magazine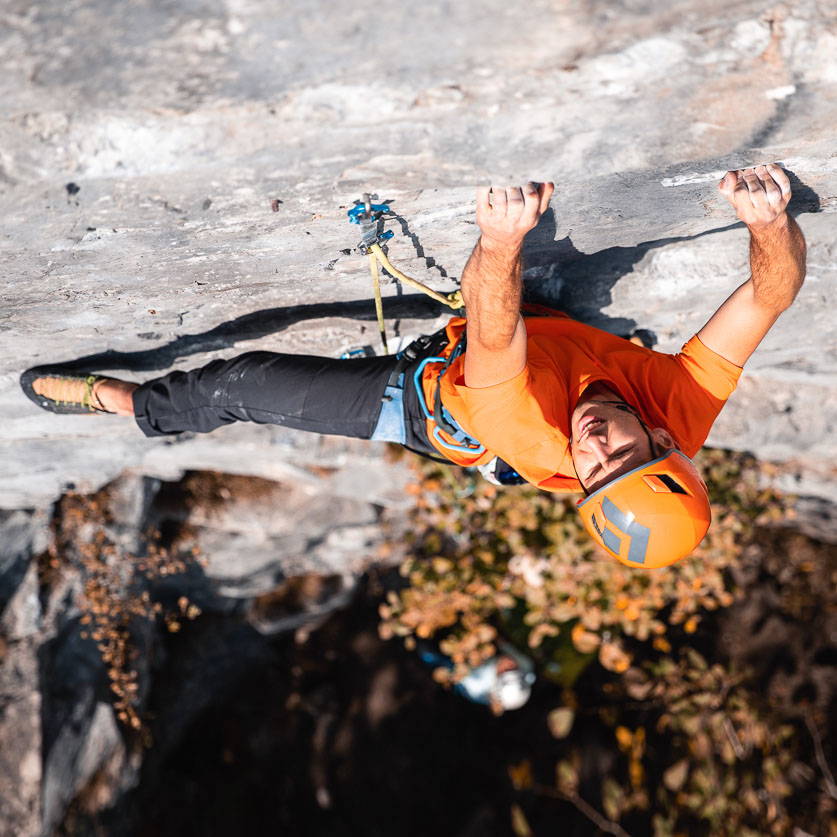 Without the legendary 80s, we wouldn't have become the climbing community we are today, and neither would our leggings and t-shirts that have become quite as fantastic.
Enjoy this 80s throwback graphic, bring us back to the age of fashion-expression combined performance garments. The Carabiner tee offers the kind of retro graphic to inspire and remind us of where we all came from.
---
Thanks for reading. We're 3RD ROCK. We design and manufacture sustainable rock climbing clothes & activewear that's made to move and made to last. Using recycled ocean plastic, organic cotton and upcycled materials, we're making items that help protect the very environments we depends on for our adventures.
We've been awarded "Most Ethical Climbing Brand" by the Ethical Consumer trade bodybeating out Black Diamond, Prana and even Patagonia!
It's our way of saying "no" to fast fashion, "yes" to protecting the climate and "absolutely" to a life spent outdoors.
---