In the 'new normal' world we now find ourselves in, 'Staycations' are the new order of the day and our Ambassadors have assembled their top tips for climbing closer to home.
South West Sport Climbing Part 4: Portland
Over the last 20 years the Isle of Portland has consistently been a well known and well visited sport venue, offering over 900 well bolted sport routes from 2 to 8b as well as around 200 boulder problems.
Located on the south coast of England, the Isle is unusually connected to the mainland via Chesil Beach, an 18 mile spit. Originally the rock provided the island's main industry through quarrying with the stone used to repair St Paul's Cathedral in London and build the United Nations Headquarters in New York.
Nowadays, the compact limestone cliffs provide possibly the best sport venue for routes up to 7b in the UK. The island comprises of six main areas all set above the English Channel; each offering a contrast in style, difficulty and length. Generally the climbing tends to be just off either side of vertical on jugs, crimps, pockets and glorious flow stone features.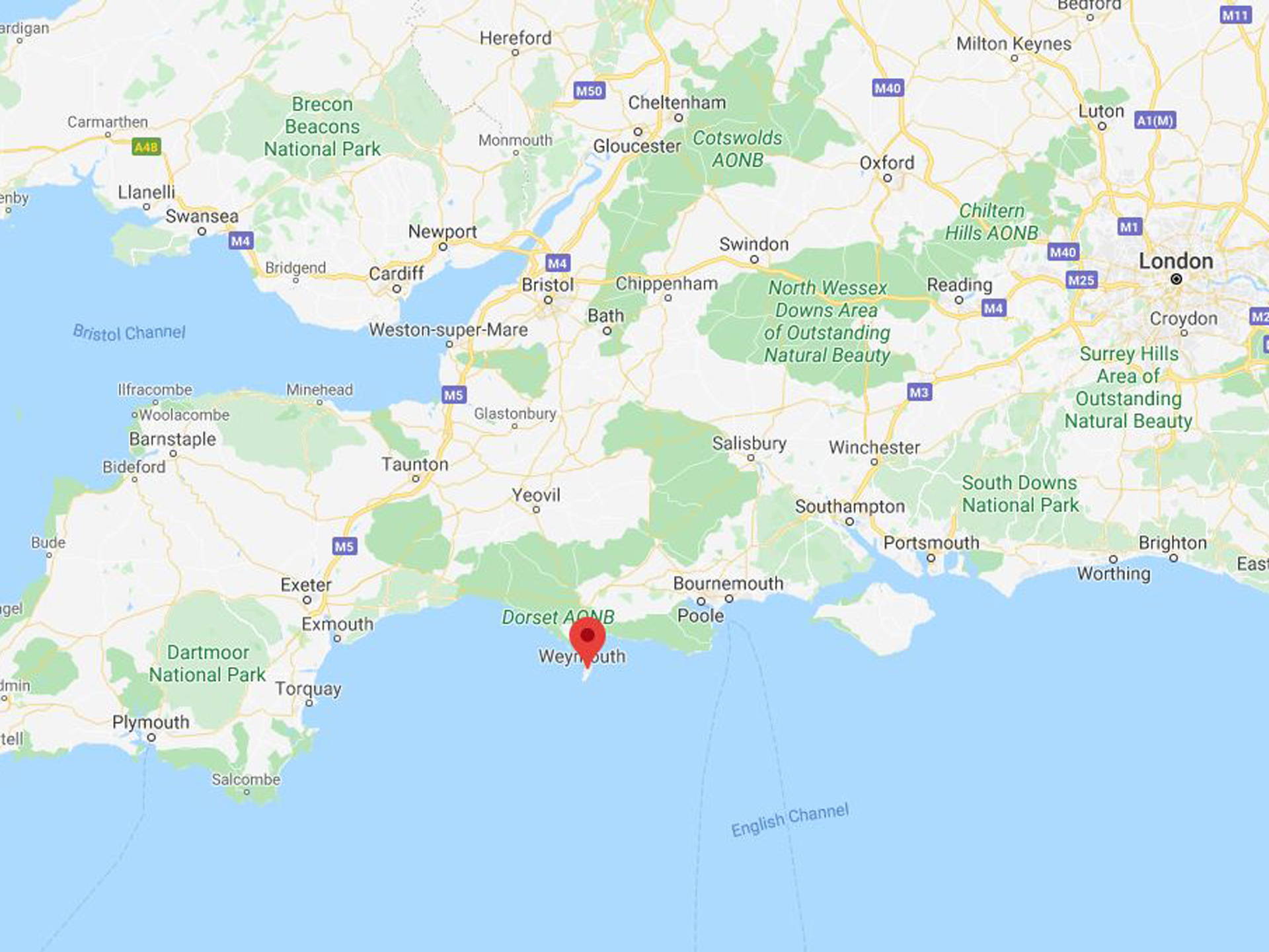 Portland is frequently referred to as the King of 6's (although the 7's aren't so bad either!) due to the vast amount of quality low-to-mid grade climbs. For a first visit I would head to Blacknor on the west coast, home to some impressive pitches on stunning flowstone formations. This is a great place to either start your sport climbing career, get lots of mileage in or work on a personal best.
To get you started my recommendations would be:
The Bolt Factory 4+

Slings Shot 5

Shit Happens, Actually 6a

Go with the Flow 6a

Ocean Drive 6a+

Burning Skies 6b+

The Unknown Solider 6b+

Turner to Stone 6c+

Portland Heights 7a

England's Dreaming 7a+

Twangy Pearl 7b

Freaky Ralph 8a+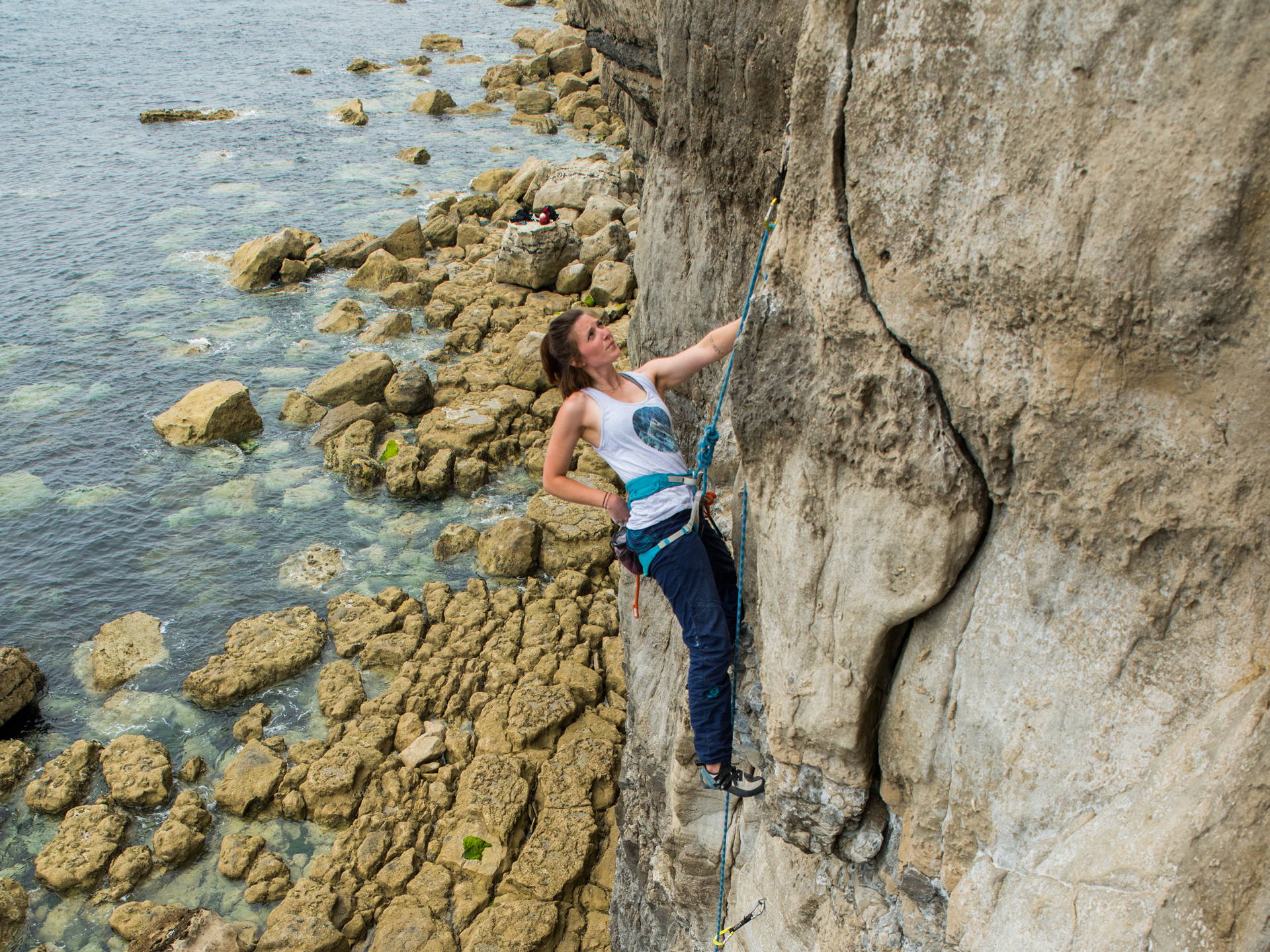 With climbing on both the west and east coast climbing is possible all year round, meaning sun or shade can always be found. The mild climate and minimal seepage make this a favourable destination when fighting our typically terrible British weather. This webcam from Weymouth looks out towards Portland and is a useful tool if in doubt. Unlike most sea cliffs, most of the climbing is situated well above the high tide mark, with only a few sectors being tidal.
Bird restrictions are variable on the island and are reviewed annually. Currently there is a permanent ban on the far end of Coastguard South. If unsure it is recommended that you check with the BMC website.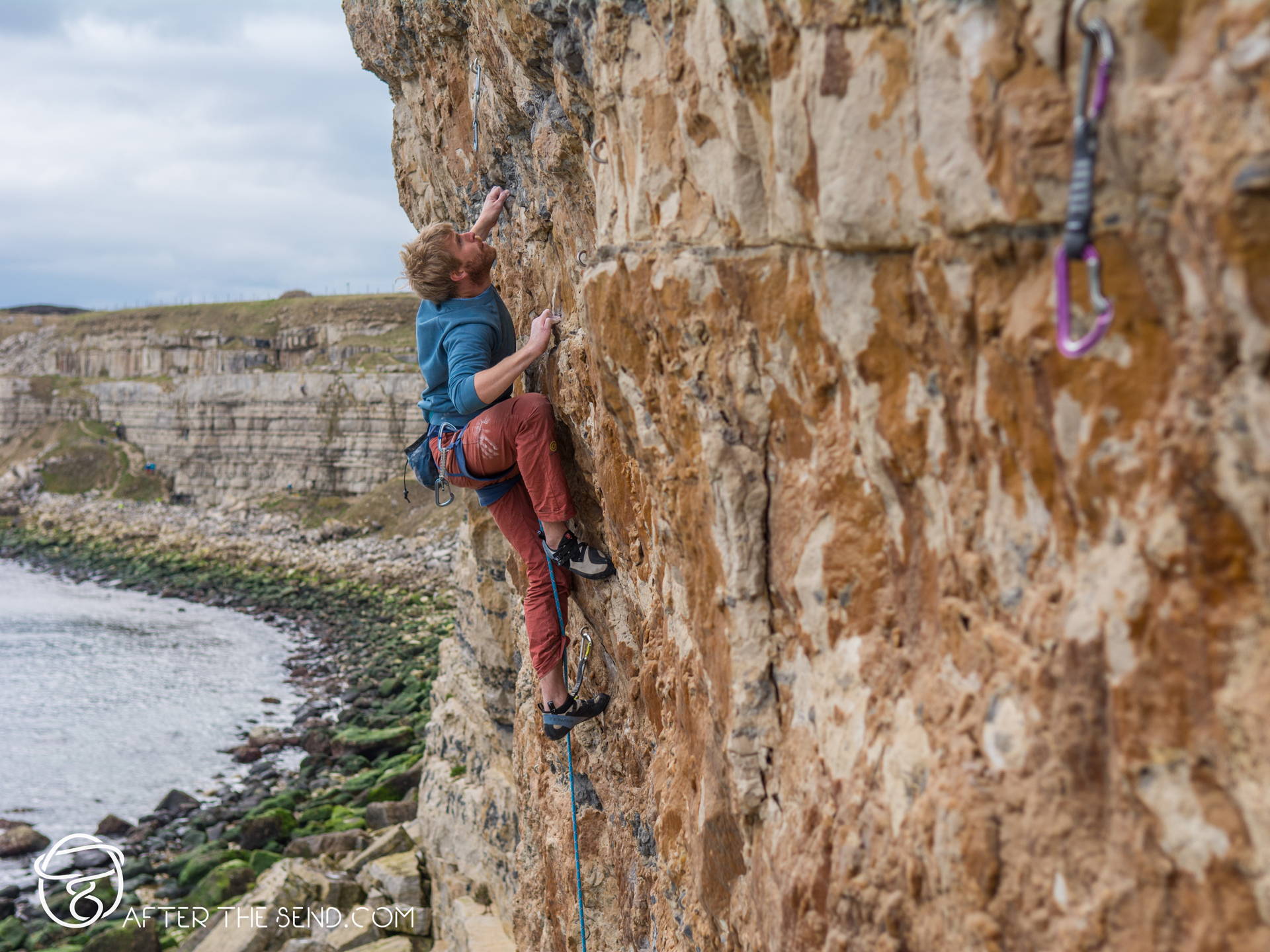 Twelve quickdraws and a 60m rope will be sufficient to see you up most of the routes on the island. It is rare for the routes to require a traditional rack and most of the classics are adequately bolted with stainless steel staples.
Although not a necessity, I would recommend packing a clip stick especially if redpointing. Portland has several choices of guidebook, the most up-to-date being the Climbers Club guide by Steve Taylor, Ben Stokes and Jimbo Kimber from 2008.
Being mostly vertical and on edges, a stiff pair of boots would be ideal. I normally use the Evolv Bandit, or something similar.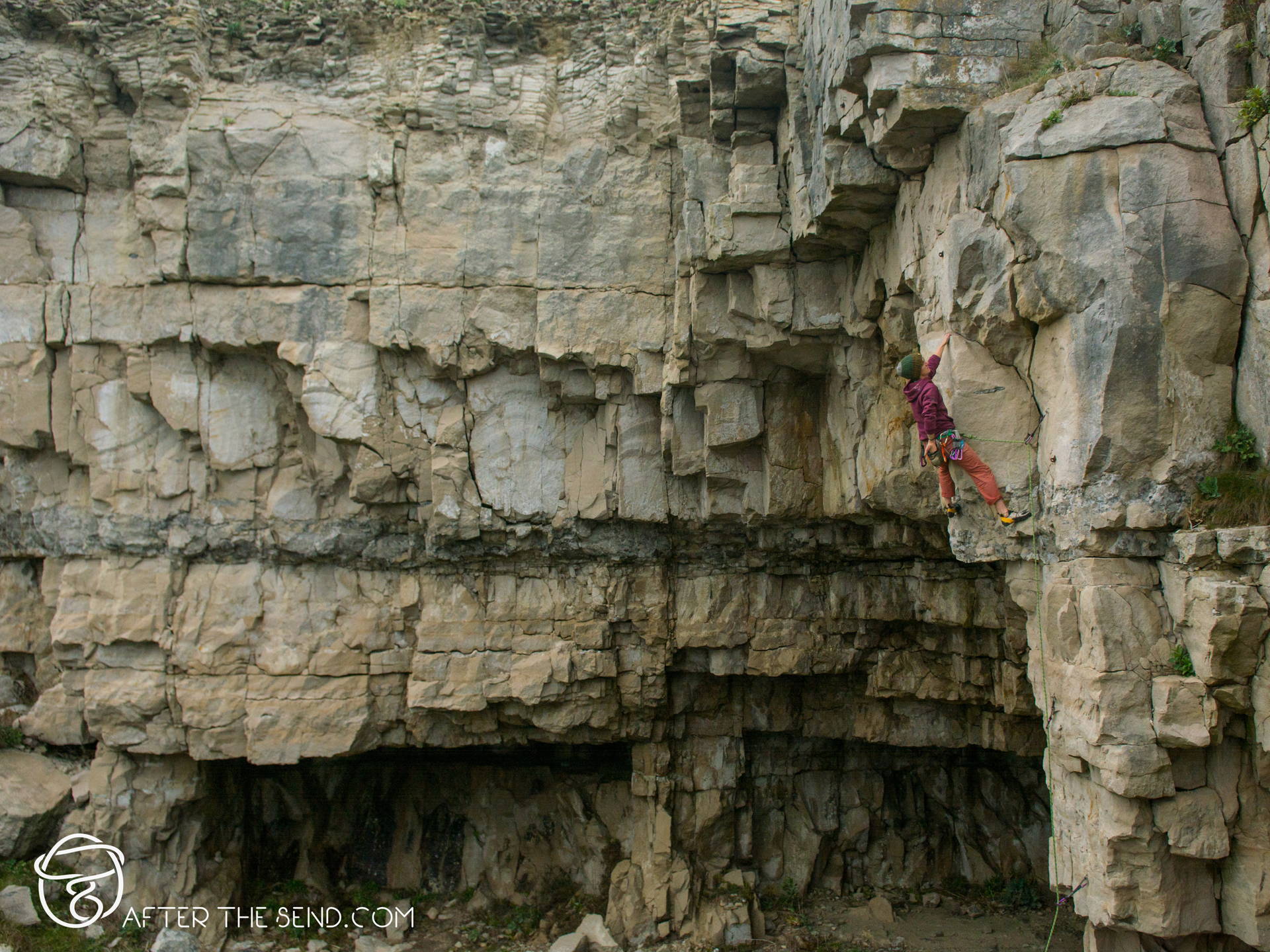 Along with climbing Portland and the surrounding beaches are popular destinations for many outdoor activities including sea kayaking, windsurfing, sailing and kiteboarding. In fact this is where the sailing and co. events were held in the 2012 Olympics.
Those looking for a more relaxing time are also catered for with popular walks along the Jurassic coastline, chilled beaches and nearby shopping in Weymouth.
Guidebooks: Portland-The Definite Guide Book, West Country Climbs, Dorset, Dorset Bouldering, South West Climbs Vol.1
Parking: Please use designated car parks, both free and Pay & Display are available. Avoid parking on streets and estates to keep access issues to a minimum.
Where to stay: No wild camping is permitted on the island, there are plenty of holiday lets and hotels available and numerous camp sites around Weymouth.
Want more South West suggestions? Check out Rhoslyn's tips for Cheddar Gorge Brean Down and Ansteys Cove.
---
---